LONG-FEATURE FILM A WORLD FOR JULIUS
Project Information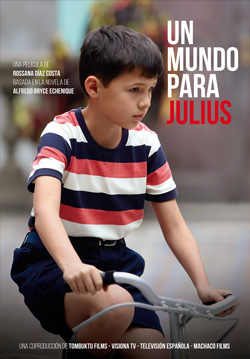 Name: UN MUNDO PARA JULIUS/ A WORLD FOR JULIUS (adaptation based on the novel of the same name by Alfredo Bryce Echenique).
Country of origin: PERU.
Time: 100 min.
Genre: Drama/coming of age.
Category: Fiction.
Scriptwriter and Director: Rossana Díaz Costa
A production of: Tombuktu Films (Peru), Visiona TV (Spain), Televisión Española (Spanish TV) and Machaco Films (Argentina).
Storyline
Julius is a high class child of the 50's, in Lima-Peru. He lives in a palace with his aristocratic family and a lot of servants. He will lose the innocence little by little, when discovering and never understanding a world full of inequalities and injustices.